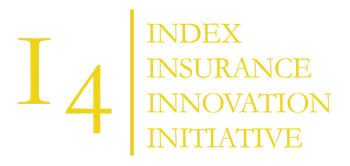 The MRR Innovation Lab's Index Insurance Innovation Initiative (I4) is advancing knowledge and action on agricultural index insurance as a tool for small-scale farmers and pastoralists to manage weather and other risks, increasing their long-term self-sufficiency and resilience.
I4 efforts focus on three key areas of innovation:
Improving the accuracy and precision of how a given index can estimate individual farmer losses, including those using cutting edge remote sensing technologies

Bundling index insurance with other innovations and interventions to improve access to markets and delivery of benefits

Advancing the international adoption of a Minimum Quality Standard (MQS) for agricultural index insurance to ensure consumers have confidence that contracts will protect them and to promote market growth
I4 researchers and staff are also enabling action on index insurance quality and access with regular outreach and consultation to governments, donors and those in the private sector. The Global Action Network (GAN) convened leading experts and stakeholders to identify market needs and to package knowledge on improving access and quality. I4 is also developing a suite of resources to guide efforts to Assess, Design and Scale effective index insurance interventions for development.