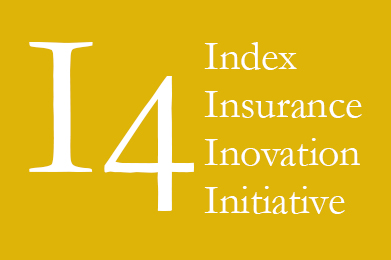 Finding ways to deal with risk and thus reduce poverty has long been a goal of development policy. Since it was first launched, the Index Insurance Innovation Initiative (I4) has grown into a broader effort to ensure resilience and self-reliance for small-scale agricultural and pastoralist households.
The I4 collaborative team is developing a global action plan to reduce risk and poverty among small-scale farmers worldwide by designing and implementing a new generation of livelihood-optimized index insurance contracts. Potential impacts include improving technology uptake by farmers, thus increasing their incomes, attracting lenders into rural markets, and reversing the dynamics that create destitute families, thus reducing the massive costs of direct aid programs.
The I4 team is developing solutions to problems with earlier index insurance tools and facilitating the uptake of improved tools by at-risk communities. These improved tools include contract designs such as:
A contract structure that connects a signal's probability distribution to assets or income that the contract is to insure
A payoff structure  that defines the relationship between the index and the indemnity payments
Multi-scale design that minimizes contract failures, while still maintaining the integrity of the contract to reduce possible moral hazard
I4 is an initiative of the Feed the Future Innovation Lab for Assets and Market Access at UC Davis, the United States Agency for International Development (USAID), the Food and Agriculture Organization of the United Nations, the Micro-Insurance Innovation Facility of the International Labour Organization and Oxfam America.