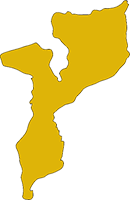 The Republic of Mozambique has among the best records of sustained economic growth in Africa, averaging 7 percent per year over the last decade. However, poverty and undernutrition rates remain high in a country that is acutely vulnerable to drought, flooding and tropical storms.
Poverty and food insecurity are the main underlying causes in Mozambique of chronic undernutrition. Food availability is limited by low yields and inadequate access to markets for many citizens.
Mozambique is the second-largest formal exporter of food in the southern Africa region and could progress toward a trade surplus if regulation and agricultural practices improve. Its strategic location and trade corridors make the country a key player in regional and global food security.
Learn more from Feed the Future.