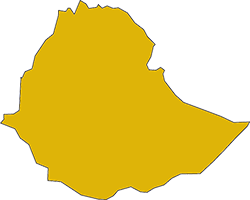 With a population of over 100 million, Ethiopia is one of the fastest-growing economies in Africa. Ethiopia's economy is dependent on agriculture, which accounts for 41 percent of gross domestic product and 90 percent of exports.
However, challenges to agricultural development include plot sizes too small to maximize economies of scale, low crop yields, lack of access to credit and land tenure constraints, limited use of improved seeds and fertilizers and weak connections between farms and markets.
Undernutrition hampers both human and economic development. Though in decline, child undernutrition rates in Ethiopia are among the highest in the world and undernutrition contributes to over 50 percent of infant and child deaths.
Despite these challenges, agriculture-led economic growth, accompanied by improvements in people's livelihoods and nutrition, can provide a long-lasting solution to Ethiopia's chronic poverty and food insecurity.
Learn more from Feed the Future.