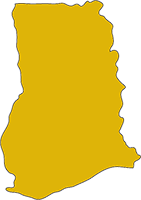 Agricultural growth is a major driver of poverty reduction in Ghana, especially in the southern part of the country. Agriculture is the nation's largest source of employment.
Ghana has achieved an overall reduction in the poverty rate from 52 percent to 28 percent over the past 10 years. Despite this progress, the northern part of the country still has poverty rates nearly twice that of the south.
While Ghana has exhibited significant progress in agriculture, it must still import 60 percent of the rice and 15 percent of the maize consumed in the country. The demand for both these staple crops is predicted to escalate with the rise in incomes and a high urban growth rate.
Learn more from Feed the Future.