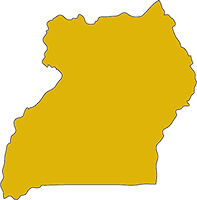 Uganda is one of the fastest growing economies in Africa. The country's population has almost doubled since 1991 and is expected to increase an additional 50 percent by 2023. However, over the past decade GDP growth slowed to an average of about 5 percent.
Despite progress in eradicating extreme poverty and hunger, undernutrition is a significant health problem that contributes to 60 percent of deaths among children under five years of age. The rate of stunting is 33 percent and only 10 percent of children 6 to 23 months of age consume a minimal acceptable diet.
Smallholder farmers dominate Uganda's agriculture sector, which is the country's largest employer and provides livelihoods for most of the country's poor. Improvements in the sector are necessary to further expand Uganda's economy, reduce poverty and provide jobs.
Learn more from Feed the Future.