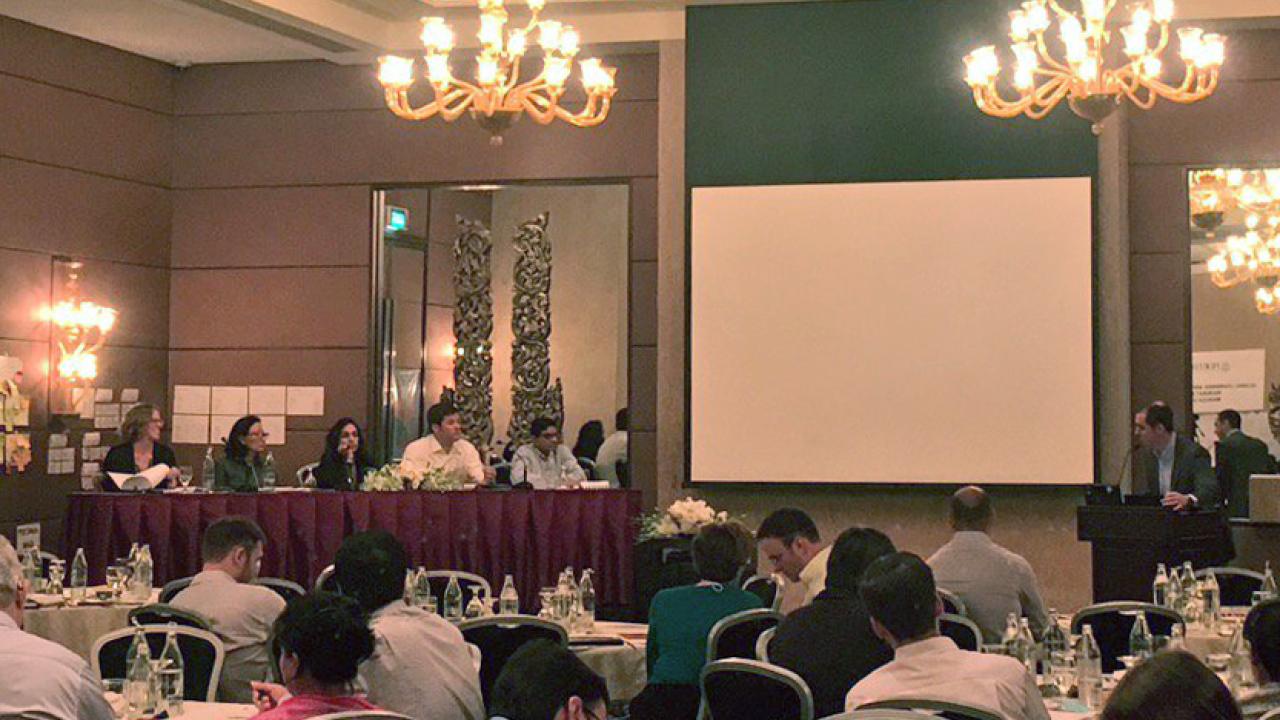 Index insurance was one of many topics discussed at a USAID learning event on market systems in Bangkok, Thailand in March, 2017.
The Feed the Future Market Systems Global Learning and Evidence Exchange (GLEE) event on March 20-24 brought together USAID personnel and implementing partners from Washington, D.C. and across Asia to exchange lessons learned from research on reducing poverty and improving food security in the region.
One of the key takeaways from the meeting, said AMA Lab associate director Tara Steinmetz, is the need to have an integrated approach. "People seemed to agree on the need to not look at problems one by one," she said. "All the different issues are interrelated."
Steinmetz gave a talk on index insurance and how it can advance the US government's Global Food Security Strategy objectives. Index insurance is a promising innovation to increase resilience and independence among small-scale farmers in developing countries who face a growing threat of weather shocks such as drought and flood.
However, as a financial instrument it is less well-known. At the start of the talk, she asked how many people were familiar with index insurance. About a third of the people in the room raised their hands.
For the AMA Innovation Lab, said Steinmetz, increasing awareness of the opportunities index insurance provides is important, but so is communicating the role of the public or governments in supporting it. Right now, government support is often what makes index insurance viable in the market, though in one sense governments already subsidize risk after the fact with emergency aid.
"Any time there is a disaster, governments put out money for aid," said Steinmetz. "It might be more impactful to invest that money up front, before a disaster strikes."
USAID has supported a number of projects on index insurance. A USAID Associate Award launched the Global Action Network, an AMA Innovation Lab partnership with the International Labour Organization. The project seeks to close gaps in research and knowledge to help realize the full potential of index insurance and to support responsible scaling up.
"We are excited about what we have learned," said Steinmetz, "but we need more research for scaling up and more work on responsible insurance products with safe minimum standards so farmers who purchase it are not worse off. It still has a remarkable potential."
Learn more about the GLEE Market Systems event.
Download the handout for the index insurance presentation.