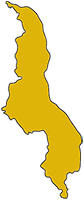 Malawi has benefited from decades of peace and security and the Government of Malawi has elevated agriculture and nutrition as key national policy priorities. However, over half the population of Malawi lives below the poverty line.
The agriculture sector represents over 30 percent of gross domestic product and employs 80 percent of Malawi's population. High population density and growth, along with only a single rainy season per year, pose distinct challenges that make Malawi's agricultural growth precarious and make the country susceptible to food insecurity.
A number of challenges hamper the transformation of Malawi's agriculture sector. These include small land holdings, a poorly developed seed sector, weak agricultural extension services and limited access to finance.
Learn more from Feed the Future.