Governments around the region are increasingly implementing or considering agricultural insurance as a way to protect farmers, smooth shocks, lessen reliance on aid, and bolster economic growth. But what are the best practices to realize the promise of agricultural insurance? How can pitfalls be avoided? What are the roles and responsibilities of the public and private sectors to ensure insurance products provide client value and development impact?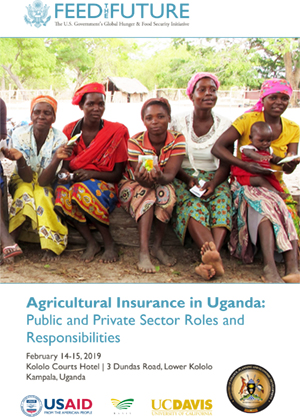 The Uganda Ministry of Finance, Planning and Economic Development and the Ministry of Agriculture, Animal Industries and Fisheries in conjunction with the Feed the Future Innovation Lab for Assets and Market Access at UC Davis hosted a two-day conference to answer to those questions, highlight ongoing challenges and share information that will complement and add value to the agricultural insurance work already underway in Uganda. By providing an open space for researchers, government policy makers and insurance industry representatives to lay out concerns and share valuable insights into agricultural and livestock-based index insurance as a tool for development, stakeholders had a clearer understanding of the necessary components and myriad options available to pursue index insurance safely and effectively.
The event facilitated discussions, guided workshops activities and provided research on how to take the appropriate steps to ensure responsible, affordable, accessible, and valuable products. The event also drew expertise and experience from around the region, in particular, highlighting Kenya's government-level scaling of index-based agricultural insurance, as well the insurance implementation trajectories in Ghana and Mozambique.