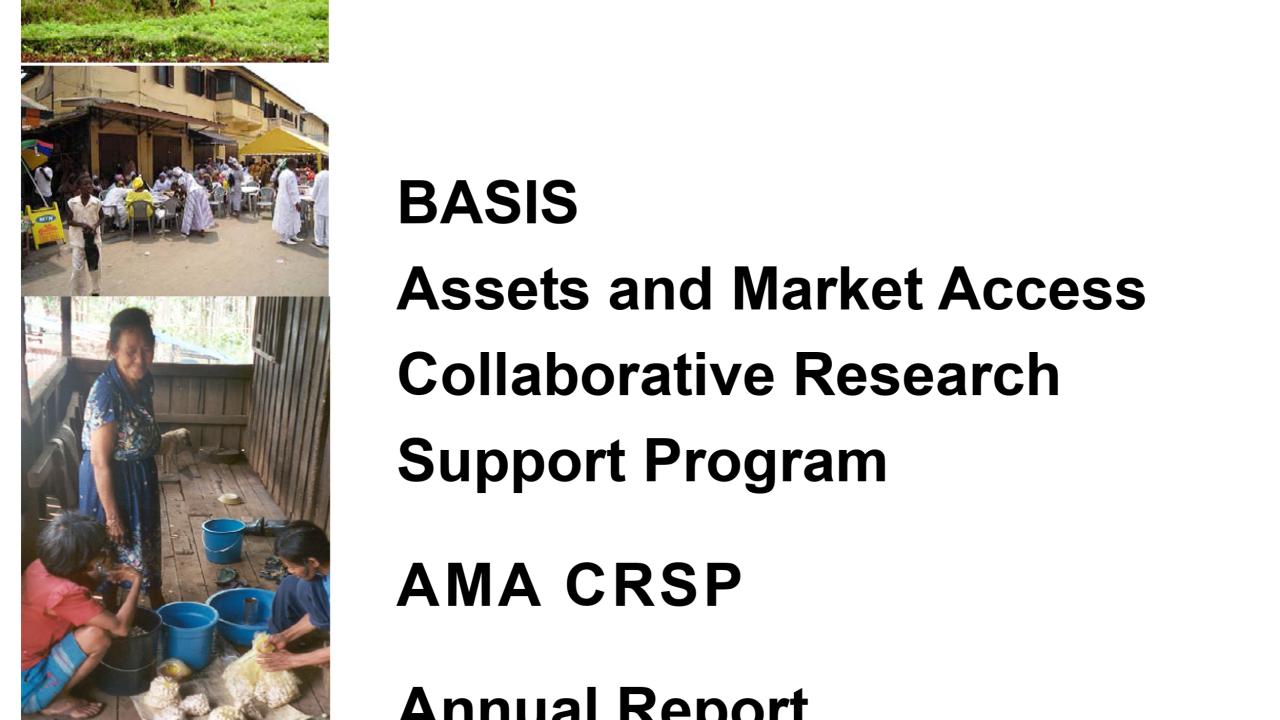 This is an exciting time as the BASIS Assets and Markets Access Collaborative Research Support Program (AMA CRSP) has begun to blend a program of pilot projects and interventions into an ongoing research agenda on the causes and consequences of rural poverty.  
Beginning in 2001, BASIS began a series of basic research projects in eastern and southern Africa that probed the nature of chronic and persistent poverty. Much of this work had important conceptual elements, and while seemingly abstract, laid the groundwork for what some have come to recognize as the "BASIS approach to chronic poverty."
The BASIS approach is predicated on two theoretically-grounded understandings. The first is that poverty dynamics and chronic poverty are best studied through the analysis of assets (the resources that people have to produce a livelihood) rather than through the analysis of income or other livelihood outcomes.
The second is that there may exist a critical minimum asset threshold—the "Micawber Threshold"—and individuals whose assets fall below that level become mired in chronic poverty, unable to escape from that position over time. This theoretical work in turn led BASIS researchers to undertake empirical analyses of various economies (Ethiopia, Kenya, Madagascar, Malawi, South Africa, and Zimbabwe) in an effort to identify the Micawber or dynamic asset poverty threshold.  
From a policy and programming perspective, knowledge of the existence and location of such critical asset thresholds is vital. It can be used to identify those households where risk has its most deleterious consequences. It can inform the design of safety nets intended to offset those consequences. Finally, it provides a target at which asset building programs can aim in order to achieve sustainable poverty reduction.
When new the new BASIS/AMA CRSP was initiated in 2006, a fraction of the budget was set aside to seed and fund an ambitious agenda of pilot projects designed to relax the constraints and change the conditions that underlie chronic poverty. The February 2009 AMA CRSP "Escaping Poverty Traps" conference held in Washington presented some of these new pilot programs. One is an asset protection insurance program for pastoralists in northern Kenya. If it works as designed, this new program will slow the collapse of families into chronic poverty and will enhance incentives for families to work their way out of poverty.
A second program, under design in Mozambique, aims to create a mix of smart fertilizer subsidies and enhanced savings instruments that will allow poor, near-subsistence farmers to reach the point at which they can sustain the financing and adoption of new technologies.  
A third program is a novel effort to fine tune the delivery of food aid, choosing among food aid procurement modalities (local, regional and international) in order to both maximize impacts in source communities and guard the assets of those in recipient communities by assuring that food aid arrives before asset depletion places affected households in a trap from which they cannot escape.
These programs are being implemented with a state-of-the-art impact evaluation methodology so that we can reliably learn about their effectiveness. All will be implemented with support from either USAID missions or USAID initiatives such as Food for Peace. Most importantly, all represent a new generation of programming intended to crowd-in private initiative and savings.  
While we will only find out the effectiveness of these and other AMA CRSP pilot programs over the next few years, they illustrate the logic of USAID's investment in long-term social science research. The creativity of the interventions, their tight integration with new conceptual thinking, and the sophistication of their impact evaluation designs is what USAID needs to sustain itself as an effective leader and donor. These are not the kinds of things USAID can obtain in any other way except by engaging the creativity and out-of-the-box thinking that is found within our universities. The complexity of chronic poverty in countries aided by the Initiative to End Hunger in Africa (IEHA) demands no less.
In addition to these pilot projects, BASIS continues to allocate most of its budget to competitively selected projects. These projects, which include impact evaluations of new interventions as well as more basic research into the fundamental causes of rural poverty and agricultural growth, include researchers from 34 US universities and overseas partners. Together with the pilot projects, these research projects come together to form the five-pronged AMA CRSP agenda:
Insurance and Risk Management
Smallholder Access to Markets
Access to Finance
Asset Building and Pathways from Poverty
Sustainability and Use of Natural Resources