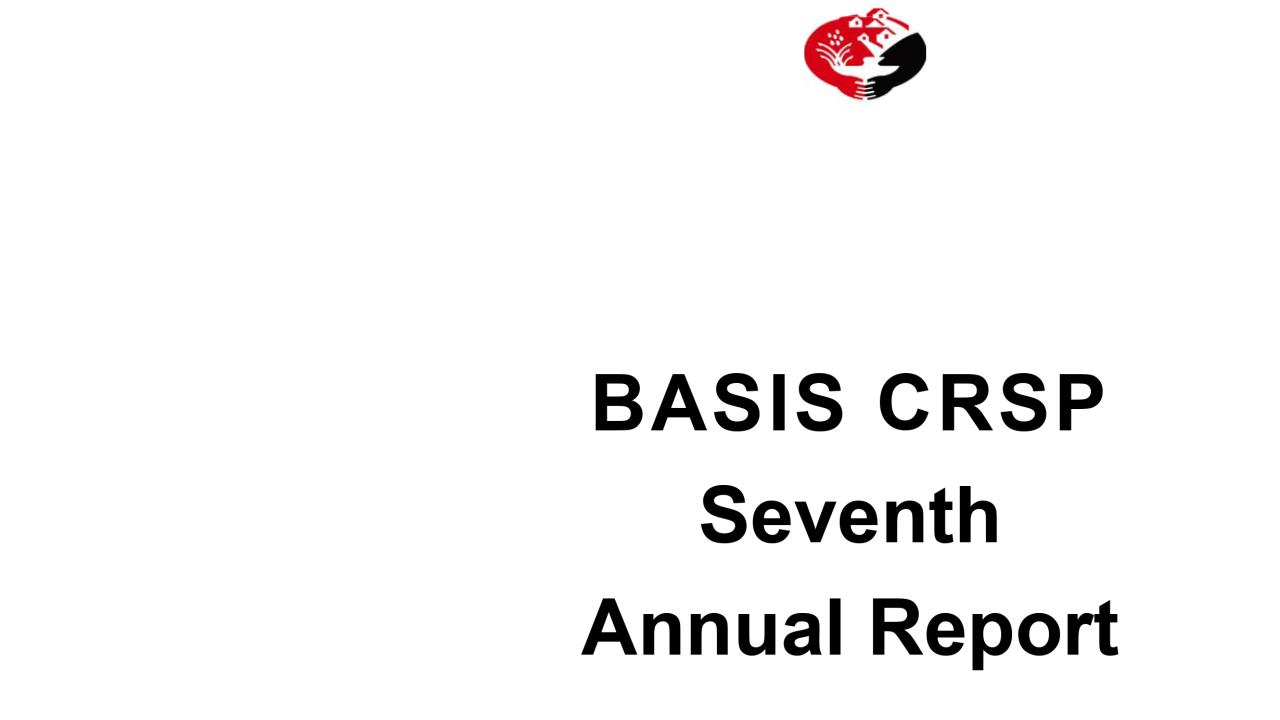 BASIS CRSP research targets three constraints that globally impede broadly based and sustainable growth:
ineffective agricultural resource use in post-reform economies
unsustainable use of environmentally-sensitive resources
poverty and food insecurity traps.
BASIS also has begun studying rural financial markets to determine how innovations in those markets can play a role in overcoming the constraints to growth.
The BASIS portfolio of eight carefully-selected research projects is designed to create knowledge about the constraints and deliver innovative policy solutions that will remove, relax, or sidestep them. Through its comprehensive research projects, BASIS produces cutting-edge findings and lasting contributions to scholarship, education, and training. This knowledge lays the foundation for innovative, effective policies that can facilitate broadly based, sustainable growth. Below are recent examples of findings in Africa, Asia, and Latin America; examples of policy outreach based on the research is in the section following.
Land redistribution on the rise in KwaZulu-Natal
Census surveys of land transactions show that 3.5% of commercial farmland available for redistribution was transferred to previously disadvantaged South Africans from 1997-2002. While the average annual rate of redistribution falls short of the government's target, the launch of the "Land Redistribution for Agricultural Development" program in 2001 had a dramatic impact on redistribution.
In KwaZulu-Natal, the rate of redistribution doubled in 2002, and for the first time transactions financed solely from government grants redistributed more land than did privately financed transactions. In addition, 14 farms were financed with a combination of grants and mortgage loans, representing a new mode of redistribution. BASIS found that these farms, on average, were larger and of better agricultural quality than those purchased privately; half were purchased by women as sole owners or as married co-owners. 
Unequal benefits from irrigation schemes in Malawi
Many countries in southern Africa are decentralizing management of resources. In Malawi, decision-making regarding transfer of irrigation schemes is concentrated in the hands of a small group of better-off farmers. Most are owners of more than the average number of plots and are long-time participants in scheme management under government direction.
BASIS found that these farmers tend to oppose redistribution of plots and may be better positioned to comply with strict rules regulating crop varieties planted, cropping calendars, and joint marketing ventures. Meanwhile, many poorer households show a growing dependence on "informal" irrigation along stream beds and in wetlands for both food and income.
Education helps families avoid poverty traps
Where farm or herd sizes are shrinking due to land scarcity, people need an alternate pathway to livelihood security. In northern Kenya, educational attainment is strongly correlated with the level and stability of expenditures. Non-farm employment enabled by education provides steady cash income that can be invested in agriculture. It also provides alternatives for households lacking sufficient land or livestock to fully employ their household's labor.
BASIS developed a theoretical model to explain how spatial inequality in infrastructure that affects labor productivity can induce rural-to-urban migration that restricts the educational attainment of children from poor families because migration can foreclose options to borrowing. This model was motivated by observations in northern Kenya showing that lending and transfers in support of educational investments were—surprisingly and contrary to popular rhetoric—nearly nonexistent.
Pathways to food security
The effect of food aid is to equalize food availability, measured by food production plus food aid, yet BASIS data show evidence of food inequality and inadequate targeting of food aid in the South Wello region of Ethiopia. Well-off households secure food availability with abundant entitlements derived from own-production and food purchases. Poorer households achieve minimal levels of food security through purchases.
While food-giving to neighbors and kin is evident, it is significant only for well-off households and is a small contributor to food security. Ownership of land and animal assets have a strong positive effect on food security, and BASIS research shows that labor is an important determinant of food security status through the ability to generate off-farm income. Head of household characteristics, such as gender and age, have no significant effect on household food security. 
Innovations shown by vulnerable female-headed households
Female-headed households constitute about 24% of households in the Ethiopia study region and tend to be poorer than male-headed households. However, female-headed households show greater non-farm innovations, earning more cash than males do in activities like petty trade, brewing, crafts, and remittances.
While their average asset holdings are often meager, they show greater capacity to recover from external shocks like drought. During the post-drought period of 2000-2002, BASIS found that herds owned by female-headed households increased 73%. The herds of male-headed households grew by 30%.
Client training vital to the success of credit bureaus
There are strong reasons to think that a bureau's ability to mitigate moral hazard will not occur if clients are imperfectly informed, and yet in Latin America many bureaus are initiated without client training. This reinforces the paternalistic, top-down approach that the microfinance movement was supposed to avoid. Yet, organizations tend to fear the higher-level lenders being able to observe their clients' behavior.
The use of a bureau to check clients is purely to the benefit of MFIs, while adding data into the bureau has few advantages for lenders and many risks. Database systems used in microfinance bureaus tend to severely limit how much one lender is able to observe about client behavior in another lender. BASIS is attempting to discover if disincentives to share are so strong as to lead to sub-optimal outcomes and require government legislation on the degree of sharing.
Rural households gaining greater access to financial services
By resurveying respondents and their children from a sample of agricultural households in the Mindanao region of the Philippines first surveyed 20 years ago, BASIS finds that access to financial services has become easier, though small farmers still have some difficulty. Devolution of governance and financing to local communities had a greater positive impact on households than did the shift from subsistence corn cultivation to sugarcane cash cropping that many families made in order to raise their income.