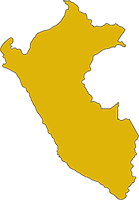 Peru's almost 31 million inhabitants benefit from the country's exceptional biodiversity and abundance of natural resources. In spite of Peru's substantial water resources overall, the populated desert coast experiences chronic water shortages. Irrigation has been a determining factor in increasing food security, growth of agricultural productivity, and human development in rural areas of the country.
GDP growth is rebounding after a regional downturn in 2014. Nonetheless, the national poverty rate was over 21 percent, with extreme poverty at about 4 percent in 2015. The rate of poverty in rural areas at nearly 38 percent is almost triple the rate in urban areas. The most extreme poverty is found in remote rural areas among indigenous Peruvians.
Learn more from USAID.