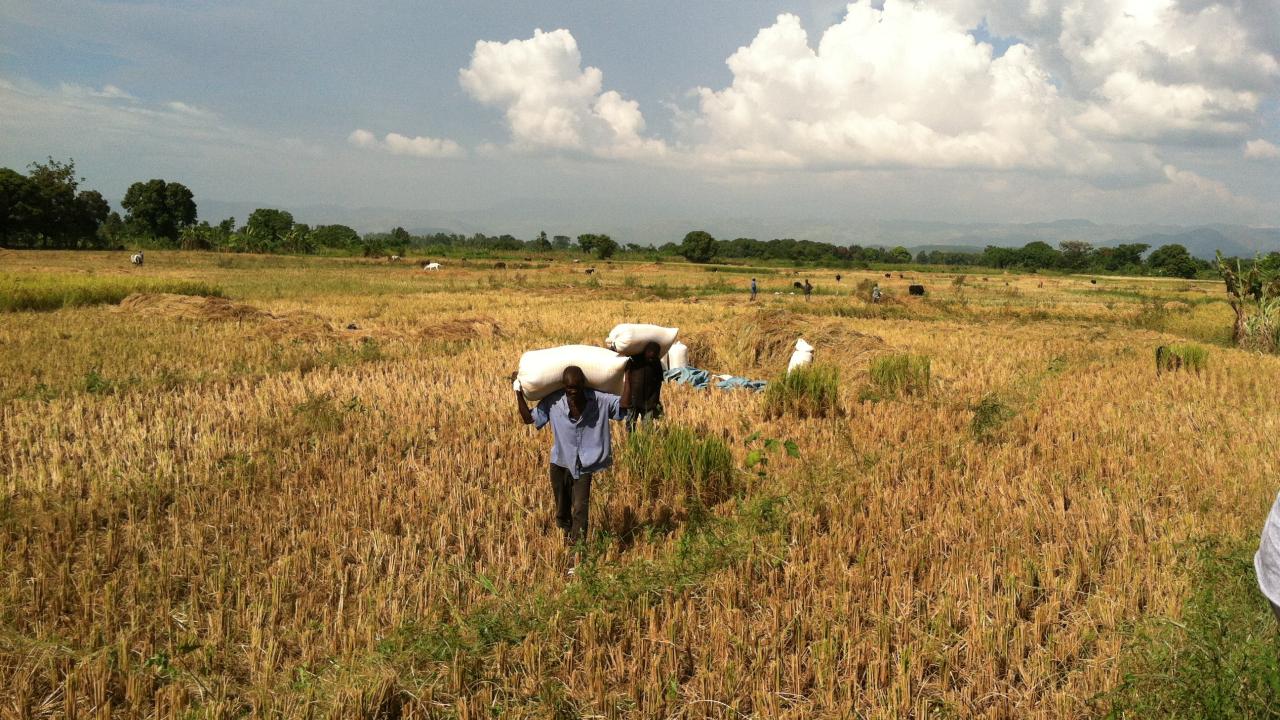 Location
Hotel Montana, Port-au-Prince, Haiti
Haiti is one of the poorest and most food insecure countries in the world. Enhancing the productivity of staple crops, especially rice, is crucial to improving income and food security among vulnerable rural households.
The System of Rice Intensification (SRI) is touted as a high-yielding low external input rice cultivation method that can increase rice yields and improve household welfare, but these claims remain controversial. Evidence of the impact of SRI on household well-being has been mixed because the bundle of practices reduces easily quantified inputs such as seeds and fertilizer but demands more labor, which is difficult to value properly in field trials. Additionally, SRI demands more precise water control, which often raises classic coordination problems with shared local irrigation infrastructure.
In the past decade, several organizations and projects have promoted SRI in Haiti. While these initiatives have generated some evidence of potential agronomic effects of SRI, there is still very little rigorous evidence of the impacts of SRI on rural households in Haiti.
With funding from the Innovation Lab for Assets and Market Access, researchers from UC Davis in collaboration with Oxfam America as an implementing partner and the Faculte d'Agronomie et Medecine Veterinaire (FAMV) as a research partner, launched a randomized control trial of SRI in 2013. The goal of this UC Davis-FAMV-Oxfam America project is to rigorously test the household-level impacts of SRI. 
This conference brought together researchers, practitioners and farmer associations to take stock of this emerging evidence base of the agronomic effect and household impacts of SRI in Haiti. Specifically, the conference aims to:
Share and discuss the results from the UC Davis – FAMV – Oxfam America project, which will underscore the need for rigorous impact evaluation and for moving beyond agronomic effects to the broader household-level impacts that ultimately matter.
Contrast and compare rigorous evidence of SRI impact from this project with SRI evidence and experiences from others in Haiti.
Use the in-depth discussion of SRI effects and impact to highlight related agricultural policy priorities in Haiti and to emphasize the broader needs of creating an enabling policy environment, reducing policy obstacles to innovation, and encouraging agricultural productivity.
Note: French will be the language of the conference with translation to English available.
Système de Riziculture Intensive (SRI) en Haïti: Effets Agronomiques et Impacts sur les ménages.
Haïti est l'un des pays les plus pauvres et ayant le plus haut niveau d'insécurité alimentaire dans le monde. L'amélioration de la productivité des cultures de base, en particulier le riz, est cruciale pour améliorer les revenus et la sécurité alimentaire des ménages ruraux vulnérables.
Le système de riziculture intensive (SRI) est présenté comme une méthode de culture à haut rendement utilisant peu d'intrants, qui peut améliorer le bien-être des ménages, mais son application demeure controversée. L'impact du SRI sur le bien-être des ménages a été controversé, parce que l'ensemble des pratiques culturales permet d'utiliser moins d'intrants tels que semences et engrais, mais exige plus de travail, ce qui rend difficile d'évaluer correctement les résultats des essais sur le terrain. En outre, le SRI exige un contrôle plus rigoureux de l'eau, ce qui met en relief les problèmes de coordination avec les infrastructures d'irrigation locale.
Au cours de la dernière décennie, plusieurs organisations et projets ont fait la promotion du SRI en Haïti. Bien que ces techniques aient montré les effets agronomiques potentiels du SRI, il y a encore très peu de preuves évidentes des impacts du SRI sur les ménages ruraux en Haïti.
Grâce au financement de "Innovation Lab for Assets and Market Access", les chercheurs de l'UC Davis en collaboration avec Oxfam America en tant que partenaire d'exécution et la Faculté d'Agronomie et de Médecine Vétérinaire (FAMV) en tant que partenaire de recherche, ont lancé un essai randomisé du SRI en 2013. L'objectif de ce projet de l'UC Davis-FAMV- Oxfam America a été de tester le niveau d'impact du SRI sur les ménages. 
Cette conférence réunira des chercheurs, des techniciens et des associations d'agriculteurs pour faire le point sur les résultats agronomiques et les impacts du SRI sur les ménages en Haïti. Plus précisément, la conférence vise à:
Partager et discuter les résultats du projet de l'UC Davis – FAMV – Oxfam America, qui soulignent la nécessité d'une évaluation d'impact allant au-delà des effets agronomiques avec un impact plus large sur les ménages.
Confronter et comparer les résultats de l'impact du SRI de ce projet avec ceux des autres projets en Haïti.
Faire des discussions approfondies sur les effets et impacts du SRI afin de mettre en évidence les politiques agricoles appropriées à Haïti, et emphase sur les besoins de création d'un environnement politique favorable, de réduction des obstacles politiques à l'innovation, et d'encouragement à la productivité agricole.