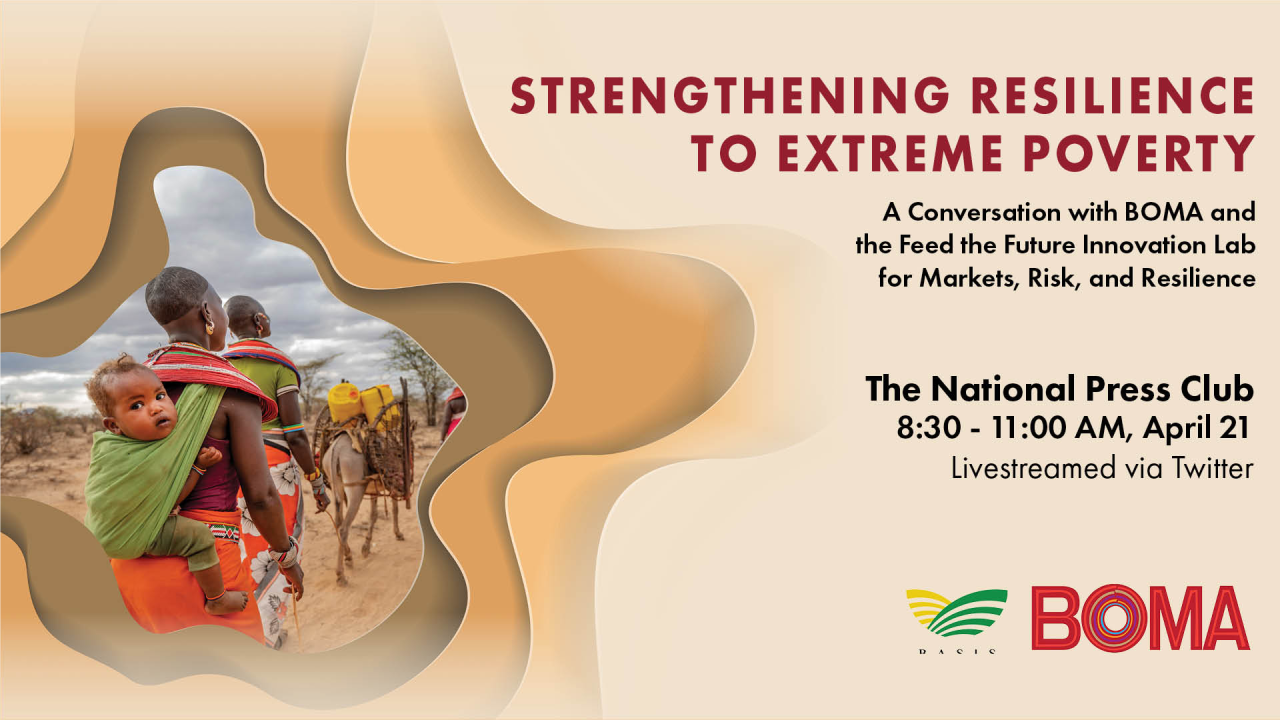 Location
National Press Club, 529 14th St NW 13th Fl, Washington, DC, US, 20045
Poverty graduation programs combine training and assets for rural households with the least means to build a sustainable and independent income. Since 2017, the Feed the Future Innovation Lab for Markets, Risk, and Resilience has been evaluating the impacts of The BOMA Project's poverty graduation program in Samburu, Kenya among women in pastoralist communities who face a regular threat of severe drought.
A recent analysis of midline data found that the program yielded substantial economic benefits for women directly enrolled as well as their non-enrolled neighbors. Results also show that levels of depression and the saturation of programming reduced those benefits significantly. Going forward, these results provide guidance for optimal program saturation and targeting to generate the greatest benefits.
Join The BOMA Project and the Feed the Future Innovation Lab for Markets, Risk & Resilience for an engaging conversation around these midline results and how to leverage them for increasing the impact of programming for vulnerable households in Kenya's drylands. A livestream of this event will be available for guests who would prefer to attend virtually.

Founded 15 years ago to eliminate extreme poverty among pastoralist women in Kenya, BOMA has since transformed the lives of more than 350,000 women, youth and refugees in Africa's drylands. BOMA's poverty graduation approach — the Rural Entrepreneur Access Project, REAP — empowers women, youth, and refugees by mapping the barriers to overcoming extreme poverty and then implementing a series of sequenced interventions with a defined exit strategy. BOMA is working to lift 3 million people out of extreme poverty — defined as living on less than $1.90 per day — by 2027.