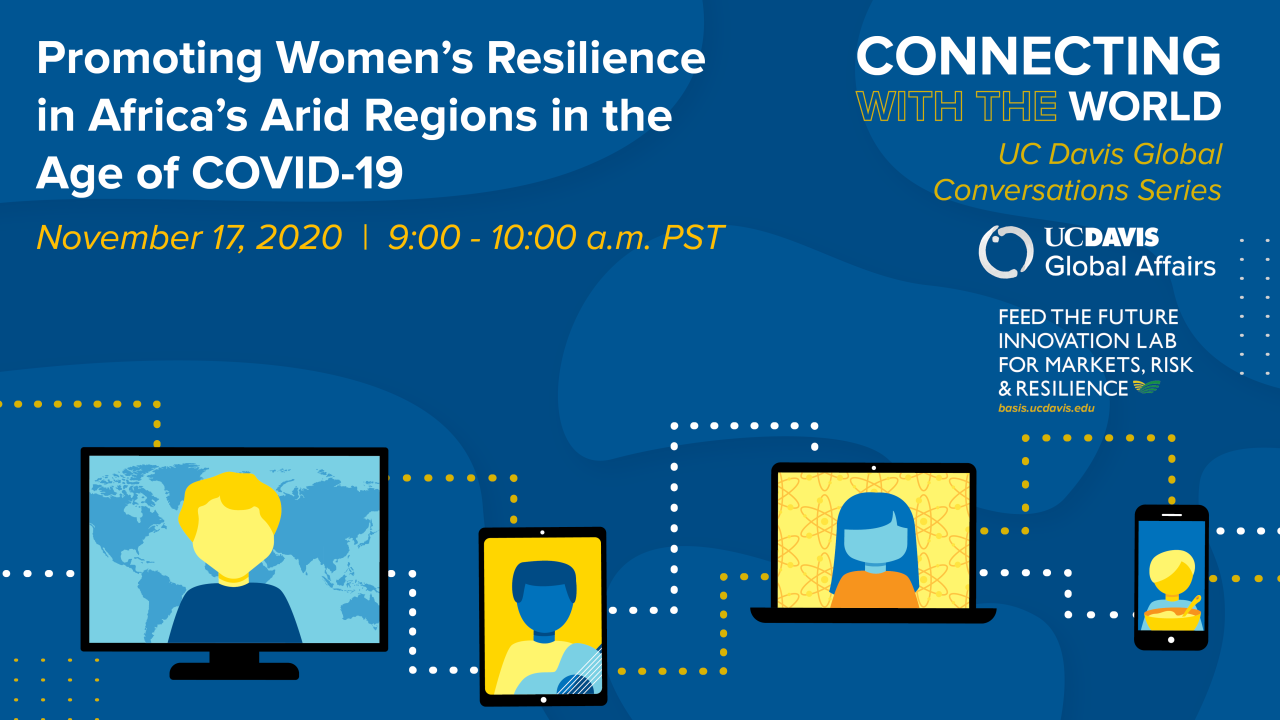 Promoting Women's Resilience in Africa's Arid Regions in the Age of COVID-19
A Virtual Panel Discussion
Tuesday, November 17, 2020  |  9:00 – 10:00 a.m. PST  |
Co-Hosted by: UC Davis Global Affairs, Feed the Future Innovation Lab for Markets, Risk & Resilience (MRR)
Empowering women provides the greatest return on investment for helping families and communities achieve a future free from poverty and food insecurity, particularly in areas that face a constant risk of disaster like severe drought. In arid northern Kenya, where families rely primarily on livestock for their livelihoods, the UC Davis-based MRR Innovation Lab is testing a pairing of development programs that has the potential to radically change poverty dynamics in these communities and it starts with investing in women-owned businesses and insurance to ensure they can hold onto their gains in the age of COVID-19.
 
The 60-minute online event, which included a question-and-answer period, began with a welcome by Global Affairs Vice Provost and Dean Joanna Regulska, and featured:
The event was be moderated by:
Recording
This event is the third in the Global Conversations series, an ongoing events series hosted by Global Affairs with the purpose of facilitating knowledge-sharing among UC Davis experts and external experts on global topics. The series will feature presentations and discussions with global and international leaders on global topics, challenges and opportunities—including those outlined in the UN Sustainable Development Goals (SDGs).
---