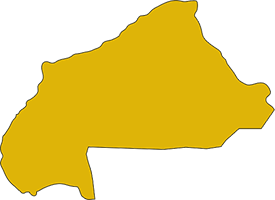 Burkina Faso, a landlocked country in Africa's Sahel region, continues to experience high poverty rates. Growth in the nation's population is high at three percent annually. Most residents of Burkina Faso rely on agriculture for their livelihoods, and 71 percent of the population live in rural areas.
Burkina Faso is also prone to recurrent natural disasters such as drought, floods and locust invasions, which have grown increasingly frequent and severe. Despite a push by the government to reduce the number of food insecure individuals in the country, roughly 20 percent of the population of Burkina Faso is food insecure. The nation also continues to host more than 30,000 refugees from Mali.
Learn more from USAID.