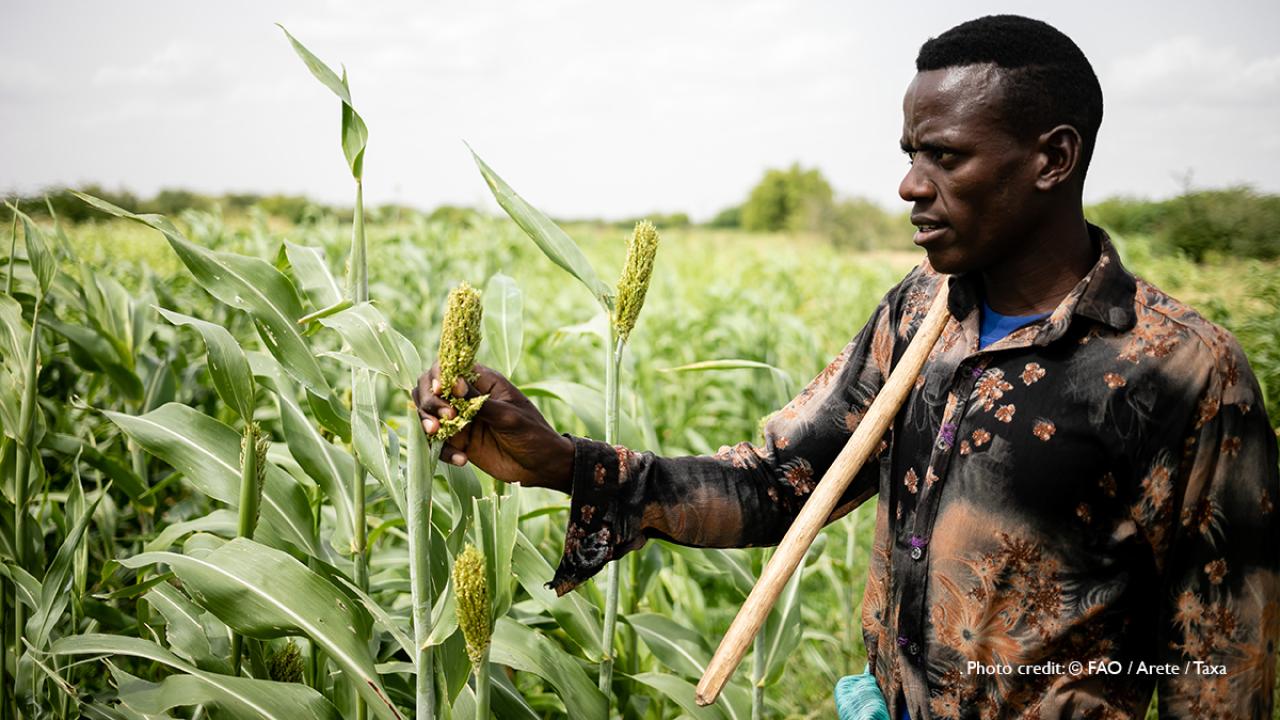 Cash transfers have become central to development interventions around the world and are often coupled with complementary programming for targeted outcomes. The Food and Agriculture Organization (FAO) has implemented new programs that leverage this approach in Somalia, a fragile state affected by crises caused by conflict and climate change. This MRR Innovation Lab project in Somalia is testing whether cash transfers and complementary programming help transition from humanitarian to development assistance and build resilience among vulnerable rural families.
Project Overview
Lead Principal Investigator: John A. Maluccio, Middlebury College
Project Partners: Food and Agriculture Organization of the United Nations (FAO), University of Alicante 
Development Innovation: Cash transfers with complementary programming to facilitate transition from humanitarian to development assistance
Commodity: Multiple
Targeted Population: Small-scale farmers and agropastoralists
Country/Location: Somalia Baidoa and Baki districts
Timeline: 2022-2025
Funding: $626,960 (USAID)
The Challenge
In 2016, FAO began providing short-term humanitarian assistance, including cash transfers, alongside tailored livelihood packages to households in crisis in Somalia. However, the assistance is typically available for only a single cropping season in order to provide support to other households in need. Some families may still be in crisis when the assistance ends. In a region where multiple frequent shocks are common, the short-term nature of this assistance limits families' opportunities to leverage that support into permanent gains in self-reliance and resilience.
Recent global crises and economic recession have created new urgency to identify effective ways to transition from expensive humanitarian assistance to more financially sustainable approaches to promoting self-reliance. In 2020, FAO introduced a productive safety net pilot program called Long-Term Cash and Livelihood Support that targets its former short-term humanitarian aid beneficiaries with longer-term support. 
Research Design
An MRR Innovation Lab research team led from Middlebury College is partnering with FAO in Somalia to conduct a randomized evaluation that tests the impacts of two components of its Long-Term Cash and Livelihood Support pilot program. The MRR research team follows this program to examine the impact of the transition from humanitarian to development programming.
At the start of the study, each household participating in the study receives a short-term basic relief package of cash and agricultural inputs for up to six months. The cash transfers of about $70 monthly are 80 percent of the cost of an average households' monthly consumption.
Afterward, two groups of households are randomly selected to receive up to 18 additional months of cash transfers valued at roughly half of the short-term basic relief package. Of these two groups, one continues to receive cash only while the other group receives cash as well as a comprehensive livelihoods package of productive inputs and services. 
Households in this second group who receive the comprehensive livelihoods package also receive access to an intensive mobile phone-based digital extension program under development by FAO-Somalia. In a region where disruptions to travel and extension services are common, digital-based extension has the potential to improve technology adoption and resilience.
Because all three groups will receive the short-term basic relief package, all estimates will be relative to receiving the basic relief package rather than absolute program effects. 
Beneficiaries are smallholder agricultural households in 90 communities across the Baidoa and Baki districts. These districts were selected based on having large numbers of households in crisis or in emergency according to the Integrated Phase Classifications (IPC) used by USAID. The 1,800 households selected to participate in the study are the most vulnerable in their communities. The research team is measuring impacts that include economic diversification, income, agricultural productivity and food security. 
Estimates of how the programming may generate resilience are based on multiple approaches. They consider factors that can make households more resilient to climate-related disasters or other shocks, such as adopting climate-smart agricultural (CSA) practices or stress-tolerant crops. They also measure probabilistic-resilience scores based on prior research[1] on resilience and estimate the programming's effect on the FAO Resilience Capacity Index (RCI) using its Resilience Index Measurement and Analysis (RIMA) tool.[2]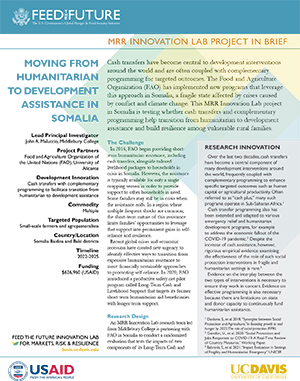 Development Impact
After decades of persistent conflict, the Government of Somalia is forging a new path forward by taking steps to strengthen its governance and enhance the wellbeing of its citizens. Fundamental to this transition is a shift from humanitarian assistance that responds to recurrent shocks to a sustainable approach that promotes the economic prosperity and resilience of the Somali people. 
This research supports Objective 2 from the USAID Somalia Country Development and Cooperation Strategy (CDCS) to enable marginalized Somalis to more effectively withstand shocks and stresses. It does this by strengthening and diversifying livelihoods of marginalized populations. 
Within Somalia, there is strong demand for rigorous evidence on ways to improve wellbeing and resilience. The study builds on relationships and collaborations between FAO-Somalia and three key Government of Somalia ministries: the Ministry of Labour and Social Affairs (MOLSA), the Ministry of Humanitarian and Disaster Management (MoHADM) and the Ministry of Agriculture (MoA). The research recognizes the various vulnerabilities of rural Somalis and provides critical evidence on the impacts of integrated assistance.
[1] Cissé, J.D., et al. 2018. "Estimating development resilience: a conditional moments-based approach." Journal of Development Economics.
[2] FAO. 2016. Resilience index measurement and analysis-II.
This report is made possible by the generous support of the American people through the United States Agency for International Development (USAID) cooperative agreement 7200AA19LE00004. The contents are the responsibility of the Feed the Future Innovation Lab for Markets, Risk and Resilience and do not necessarily reflect the views of USAID or the United States Government.