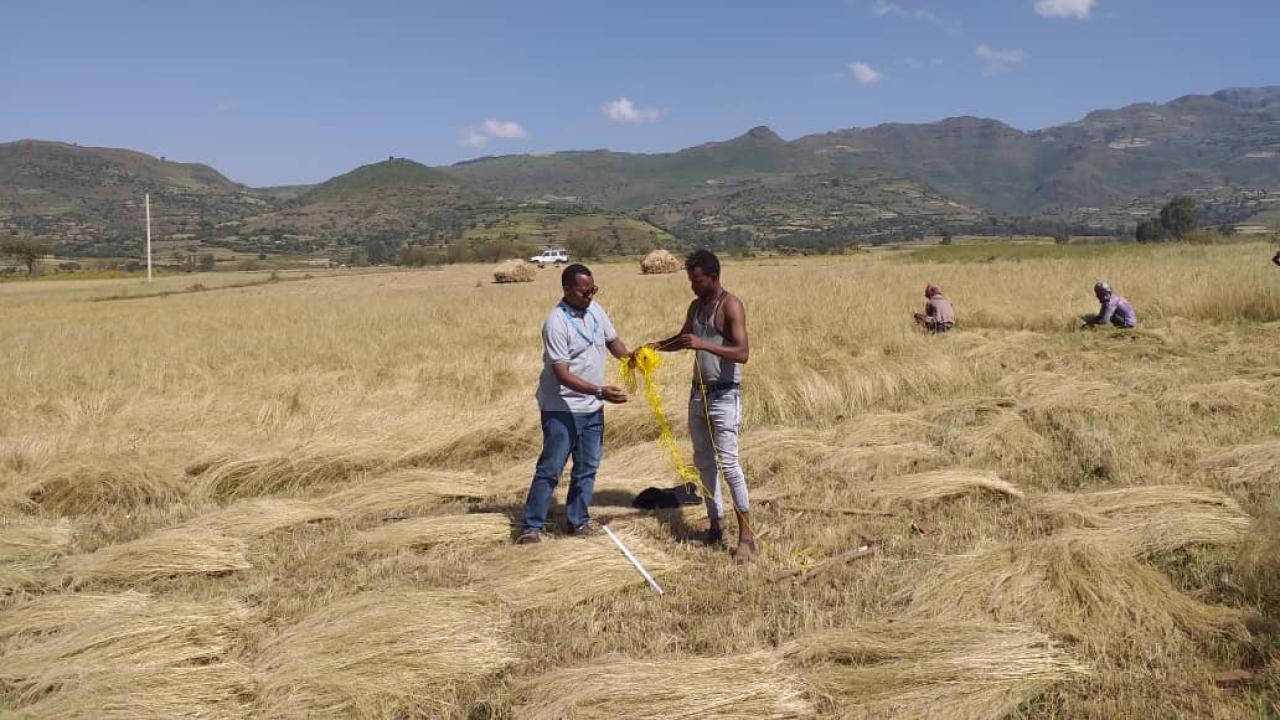 Climate change increasingly exposes small-scale farming families to hazards such as drought, heat, floods, hail, pests and diseases.[1]  Agricultural index insurance could help manage these risks, but in some areas may fail to pay accurately. In a new feasibility study, MRR Innovation Lab researchers have partnered with the R4 Rural Resilience Initiative (R4) in Ethiopia to test whether smartphone pictures of crops before and after damage can help implement fail-safe audits. This picture-based insurance (PBI) audit may dramatically improve contract responsiveness while keeping costs low.  
Project overview
Lead Principal Investigator: Maria Porter, Michigan State University
Project Partners: International Food Policy Research Institute, R4 Rural Resilience Initiative
Development Innovation: Picture-based audit for index insurance
Commodity: Teff
Targeted Population: Small-scale farmers
Country/Location: Ethiopia
Timeline: 2020
Funding: $39,995 (USAID)
The Challenge
In 2011, the World Food Programme (WFP) and Oxfam America launched the R4 Rural Resilience Initiative (R4) to enable vulnerable agricultural families to increase their food and income security with tools to manage climate-related risks. At the center of R4 efforts is agricultural index insurance that triggers payments for estimated crop losses based on rainfall measured by satellite. 
Index insurance, which has been scaled in developing countries for nearly 20 years, makes insurance payouts cheap, fast and objective. However, a remaining challenge for R4 and index insurance programs more broadly is known as "basis risk," which is the chance a contract will not pay out accurately for losses.[2] Basis risk is particularly difficult in countries such as Ethiopia and Malawi, where the topography of the areas in which it works limits how well satellite measures of rainfall can be used to estimate losses. 
R4 Ethiopia has launched a partnership with the International Food Policy Research Institute (IFPRI) and researchers from the Ethiopian Institute for Agricultural Research (EIAR) that uses smartphone pictures to improve its index insurance contracts for small-scale farmers. The pictures do not replace the rainfall index for the insurance. Instead the pictures empower farmers with an audit the insurance provider can conduct remotely, potentially improving the responsiveness of the contract dramatically while keeping its costs low. 
Feasibility Study
In this feasibility study, MRR Innovation Lab researchers have partnered with R4 Ethiopia and IFPRI to test if smartphone pictures can be used to implement fail-safe insurance audits. Comparing contracts with and without this type of audit, the team is measuring factors known to influence demand for insurance: trust, fairness, understanding, liquidity constraints, quality, premiums and women's constraints to benefit from index insurance.[3] 
The team is training farmers on R4 insurance with games that demonstrate basis risk, meaning the risk that the insurance will fail to pay when farmers suffer losses or that payments are made when they do not. These trainings use images of insured plots collected through a prior R4/IFPRI pilot to demonstrate how the audit works. The training also informs farmers of the overlap between their assessments of crop damage and assessments by insurance experts. 
At the end of these sessions, farmers can purchase one of these insurance products at varying price points. The team is using these data to establish willingness-to-pay for insurance with different payout mechanisms and at different premiums. 
These lab-in-the-field experiments randomly assign up to 360 participating farmers across six treatment groups in three categories of insurance contract: 
Control: Standard R4 contract with payment solely based on rainfall. 
Standard fail-safe trigger: Payment based on rainfall with ability to request a field-based audit that triggers payments if yields are low. Premiums for this contract are higher than for the standard R4 contract. 
Picture-based trigger: Payment is based on rainfall with the ability to submit photos that provide evidence of damage in the event the contract fails to trigger for losses. Premiums for this contract are higher than for the standard R4 contract.
The research team is ensuring that about half of participants are women to estimate gender differences in demand and/or preferences. The team is also exploring the possibility of recruiting married couples in order to examine intra-household differences in decision-making, which may influence women's ability to make decisions on purchasing insurance.
Development Impact
This study will inform an upcoming large-scale randomized controlled trial (RCT) in Ethiopia evaluating the impact of integrating image-based crop monitoring into R4 index insurance contracts. The feasibility study builds on the existing partnership between WFP, IFPRI and researchers from EIAR that has been supported by the CGIAR research programs on Climate Change, Agriculture and Food Security (CCAFS), Policies, Institutions and Markets (PIM) and Platform for Big Data in Agriculture. 
The PBI audit should reduce the likelihood the contract fails. It should also improve trust and understanding, which could increase the likelihood farmers invest in more expensive but more productive technologies that improve yields, incomes and profits.  
This feasibility study will also ensure that R4 insurance products meet the needs of both men and women. The lab-in-the-field experiment will show how R4 can promote women's empowerment in financial decision-making, particularly in access to and decisions on credit and leadership, which are areas in which women are least empowered. 
[1] Porter, J.R., et al. 2014. "Food security and food production systems." Climate Change 2014: Impacts, Adaptation, and Vulnerability. Fifth Assessment Report of the Intergovernmental Panel on Climate Change.
[2] Hill, R.V., et al. 2016. "Demand for a simple weather insurance product in India: theory and evidence. American Journal of Agricultural Economics.
[3] ibid.